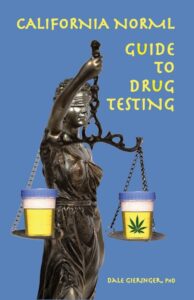 July 8, 2019 – Gov. Newsom has signed a little-noticed bill to ban drug-test masking aids such as additives and synthetic urine.  The bill, AB 851 by Jim Cooper (Sacramento), passed quietly and unanimously through both houses with no debate or input from opponents.
Cal NORML  blasted the bill as a gift to the powerful drug testing industry. "Drug tests have never been FDA proven to be safe or effective for preventing drug abuse or judging employment fitness," says Cal NORML director Dale Gieringer.   "This bill criminalizes  products used to protect consumers against an unproven and widely abused technology that wrongly discriminates against legal marijuana users."
The California Supreme Court ruled in 2008 that employers can summarily fire workers for positive drug tests for marijuana, regardless of medical need.  Urine tests can detect marijuana for days to weeks after use;  hair tests, which are also protected by AB 851, can detect use for months.
California NORML is calling on the legislature to pass a law banning the use of drug testing to discriminate against legal users of marijuana.  Similar legislation has recently been adopted in Nevada and New York City.
AB 851 takes effect as of Jan 1, 2020. At present, manufacturers and distributors of drug testing screens are operating in California.
Read more about Drug Testing and Employment Rights for Marijuana Users in California.