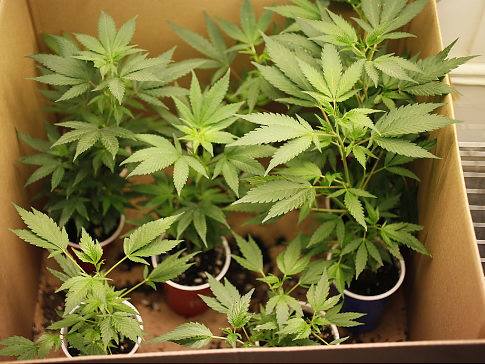 PERSONAL CANNABIS CULTIVATION
Under AUMA, adults over 21 may cultivate six plants per parcel of land (not per person) in California. Local jurisdictions may "reasonably regulate" personal cannabis gardens, including requiring them to be grown indoors.
Medical cannabis may be legally cultivated by qualified patients in California under Prop. 215, with a recommendation from a licensed physician. Under state law, the amount a patient can cultivate is limited only by the amount that a patient needs. However, the courts have ruled that local jurisdictions can ban personal medical marijuana cultivation and many jurisdictions have moved to allow only 6 plants for medical gardens. State law allows cooperative gardens of up to five patients, but this is also subject to local ordinances. Beware of doctor's recommendations for 99 or any plant number; these are legal only if it can be proved in court that a patient required that amount.
County ordinances cover only unincorporated areas; cities have their own ordinances. You can find your local ordinance code by Googling the name of your city or county plus the word "code," going to a website that list your local codes, and then searching for marijuana or cannabis. However not all of the online listings are up to date and you should also check your city or county's council or board meeting agendas at their websites for the latest ordinances. And it's always a good idea to Contact a local Cal NORML legal committee attorney.
COMMERCIAL CANNABIS CULTIVATION
Locals jurisdictions may license commercial cannabis cultivation, which requires a state license from the California Department of Cannabis Control, and possible permits from the state or local Water Board and Fish and Wildlife, including CEQA analysis.
The DCC has published a comprehensive guide to local jurisdictions that allow licensing for commercial cannabis businesses, including retail and cultivation.
A source for detailed, statewide local commercial ordinance information and analysis is Fyllo.
Other Resources (not all are up to date):
Facebook Regulation Watch page
The Cannifornian's searchable database of cannabis laws in California cities
CSAC List of County Cultivation Regulations
GreenState.com has collected the laws for the 114 cities and counties in the SF Bay Area and The LA Daily News has done so for cities around Los Angeles.
Key Government Websites:
California Department of Cannabis Control (DCC)
DCC Cultivation Licensing Page
State Water Resources Control Board cannabis page
NEWS
5/22 – California Department of Cannabis Control debuts data tool showcasing access areas for cannabis business
2/22 – CDFW releases cannabis enforcement numbers for 2021
7/21 – The Department of Cannabis Control is established
1/16/19 – Highlights of the New Commercial Cannabis Cultivation Regulations
FAQ about Provisional Cannabis Cultivation Licenses
2/18 – The State Water Resources Control Board (State Water Board) has adopted requirements for commercial and personal medical use cannabis cultivation to reduce impacts from discharges of waste and water diversions. The State Water Board Cannabis Cultivation Regulatory Programs are now in effect and cannabis cultivators should apply online for the necessary water quality and water right permits.
The Cannabis Cultivation Policy includes requirements to reduce impacts from discharges of waste and water diversions associated with cannabis cultivation activities. The Policy is available at the Water Board's Cannabis Cultivation web page.
Cannabis cultivators must obtain coverage or waiver under one or both State Water Board cannabis cultivation regulatory programs. The Cannabis Small Irrigation Use Registration Program is an expedited way to obtain a water right for cannabis cultivation activities. Many cultivators will need to obtain a Small Irrigation Use Registration by April 1, 2018.
Most cultivators that have submitted Initial Statements of Diversion and Use or other water right forms to the State Water Board still need to file for a Small Irrigation Use Registration.
For more information see:
Water Board Cannabis Cultivation web page
The webcast of the State Water Board's Cannabis Program December 2017 Workshop on the Cannabis Policy, General Order, Small Irrigation Use Registration Program, and Cannabis Portal. Also, the powerpoint presentation from that workshop.
Water Quality Permits – Cannabis General Order – (916)-341-5580 or email
Water Rights – Cannabis Small Irrigation Use Registrations – (916)-319-9427 or email
Cannabis Cultivation Policy – email
Subscribe to the water board Email List for Updates
Cannabis Cultivation Waste Discharge Regulatory Program. Existing enrollees under the regional Order must submit this updated Annual Reporting form annually by March 31.
See CannaBusiness Law's interactive map of medical marijuana regulations by county. (These affect only unincorporated areas of a county; cities within those counties may have different regulations.)
Also see: Attorney Omar Figueroa's local guidelines page
The CDFA online licensing system can be accessed here. New users will be required to register for an account within the online licensing system prior to applying for a license.
12/5/17 – CaNORML Responds to Emergency Cultivation Regulations
Cannabis: What You Need to Know About Tax Rates and Registration
10/14/17 – The Water Board has amended its Principles and Guidelines for Cannabis Cultivation and Waste Discharge Requirements. They have also updated their cannabis portal.
9/29/17 – The State Water Resources Control Board has issued deadlines specific to cultivators that wish to submit their CalCannabis cultivation license application before January 1, 2019. If water is already being diverted under a riparian water right claim, an Initial Statement of Diversion and Use must be on file with the Division of Water Rights on or before October 31, 2017.  The form is available here.
The licensing authorities will use the emergency rulemaking process for the new regulations. The emergency regulations are expected to be published in November. The implementation date for the issuance of commercial cannabis licenses remains the same: January 1, 2018.
For additional information about the three licensing authorities, or to learn about updates as they become available, please visit the state's Cannabis Web Portal. The BCC's website has been overhauled to provide the public with new resources and updated information regarding upcoming regulations and licensing applications.
9/25/17 – The California Department of Fish and Wildlife has a helpful web site summarizing its requirements for cannabis cultivation, including LSAs.
9/18/17 – The state CEQA report contains an updated list of county ordinances, plus ordinances in the top ten cities of California and laws from other states.
2/17/2016 – This page formerly listed ordinances that were in place before January 1, 2016. There are over 400 localities in California and many passed cultivation bans due to the erroneous and now-repealed March 1 deadline in the state MMRSA regulations.
Arguably these are "placeholder" ordinances retaining locals' right to license and regulate once MMRSA is fully implemented. We are working on strategies to challenge the bans, and encouraging local action to start the process of developing regulations instead.
You can find your local ordinance code by Googling the name of the city or county plus the word "code," going to a website that list your local codes, and then searching for marijuana or cannabis. However not all of the online listings are up to date and you should also check your city or county's council or board meeting agendas at their websites for the latest ordinances. Searching at the Facebook Ban Watch page is another way to find out what's happening in your city or county. And it's always a good idea to Contact a Cal NORML legal committee attorney.
Absent a local ordinance, state law allows 6 plants on a parcel for recreational gardens (but local ordinances can drive those gardens indoors or put other "reasonable regulations" on them). For medical cannabis, caregivers can grow for up to five patients under state law. State licensing for commercial-sized medical marijuana farms is allowable under the new law, provided locals approve.
Also see: ASA's Local Access Project, their model ordinance protecting commercial cultivation, and their memo for local lawmakers.
Appeals Court Rules Marijuana Growers Can't Be Criminalized by Local Ordinances
The CA Board of Equalization has issued a special notice to growers and sellers of medical cannabis telling them that they are required to register and file returns. There is no charge for registering with the BOE. Note that growers do not have to pay sales taxes on products that they sell to retail dispensaries and collectives, provided the latter have a BOE resale permit. However, they are required to report their sales to the BOE. Cal NORML strongly advises all parties involved in the marijuana industry to register with the BOE if they are interested in becoming legal providers under California law.
The North Coast Regional Water Quality Control Board has issued an order for cannabis cultivation and similar activities along with Best Management Practices.
The Central Valley Water Board has also issued a general order about marijuana cultivation Read more.
Marijuana pesticide guidelines issued by State of California April 8, 2015
State Water Resources Control Board Cannabis Enforcement Unit page
On November 26, 2013, the Third District Court of Appeals upheld the city of Live Oak's ban on medical marijuana cultivation. California NORML supported a court challenge to the Live Oak ruling, but the California Supreme Court refused to hear the challenge.
Cities and counties across the state have moved to establish zoning regulations for medical cannabis cultivation. In many cases, these are driven by complaints from neighbors who don't like the sight or smell of marijuana, or by public officials with overly punitive attitudes. Public safety concerns have been raised, and there have been a few incidents of violence around marijuana gardens. While there may be a need in some cities to require greenhouses or other security measures for gardens, in rural areas and in whole counties, there is no justification for outlawing outdoor marijuana gardens. Any patient who is impacted by planned or existing local ordinances can write to CalNORML.
Also see: California Association of Counties ordinance page. 
Some doctors are charging clients extra for so-called "cultivation licenses" supposedly entitling them to grow more than the normal number of plants. There is no such thing as a "cultivation license" under California law. Any patient with a California physician's recommendation may legally cultivate or possess as much marijuana as they need for their own personal medical use, and no more. No physician can authorize them to cultivate more (they can only testify in court that a certain amount of marijuana is consistent with the individual patient's needs, and they do not have professional competence to prescribe plant numbers).
Back In the Closet: California medical cannabis patients are increasingly being forced to hide behind closed doors as bans on dispensaries and home cultivation sweep through the East Bay. East Bay Express April 30, 2014
On May 15, 2015, facing both a Cal NORML-supported lawsuit and a voter referendum, Clearlake city council voted 5-0 to repeal their medical marijuana cultivation ban. On June 12, the city voted in a new ordinance allowing 6-48 outdoor plants, depending on the size of the parcel.
DISCLAIMER: Nothing on Cal NORML's site should be substituted for bone fide legal advice. See a list of attorneys.