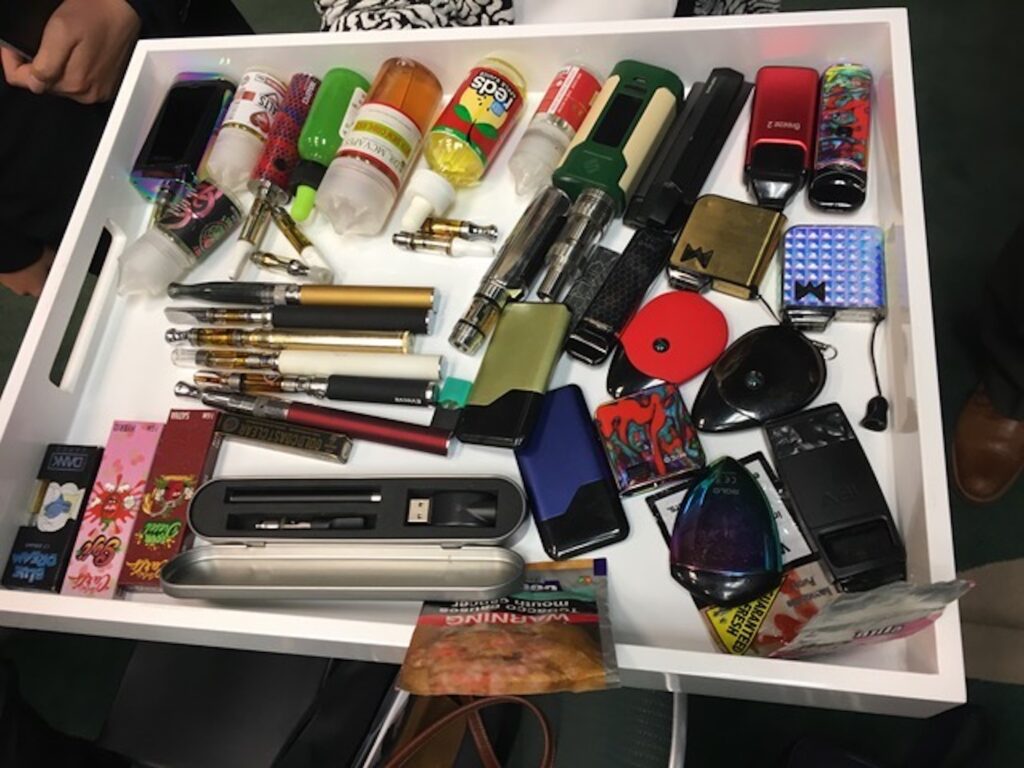 A variety of vape products seized from highschool students in Sacramento.
January 27, 2020 – Cal NORML has issued a White Paper titled, "Health Benefits and Risks of Cannabis Vaporizers and Vape Pens." The paper contains several findings and recommendations, including:
The California Bureau of Cannabis Control (BCC)  has reported that not a single California-licensed product has been linked to EVALI [E-cigarette or Vaping Associated Lung Injury] so far.  The problem thus appears to be a creation of the underground market, which at last report was some three times as large as the legally regulated one.  It therefore makes no sense to ban licensed cannabis vapes; to do so will only force consumers to the underground market, where the harm is being done. 
The safety profile of cannabis vape pens has been demonstrated in a study using government-approved extracts, which concluded that the health hazard from vaped cannabis is less than 1/1000th that of smoking. Although cannabis smoking is not as hazardous as tobacco – in particular, it hasn't been linked to lung cancer – it is known to raise the risk of bronchitis and respiratory infections.  Vape pens can therefore offer valuable harm reduction benefits to users wishing to avoid exposure to smoke.
Herbal vaporizers that don't use extracts or additives but vaporize natural flowers and leaves are inherently safe and have no link to EVALI.Vape oils extracted from pure cannabis without any additives can likewise be presumed to be safe, insofar as they contain nothing not found in smoked marijuana.
CDC and CDPH Reports; BCC Actions
The CDC recently reported that 16% of vape disease victims obtained their products from "commercial sources,"  which were were defined as "recreational or medical dispensaries, vape or smoke shops, and pop-up shops." The CDC report failed to distinguish between  legal, state-regulated sources of vapes and illegal products from the underground market.  All of the evidence points to the conclusion that it is the latter which are the source of the problem.
The California Department of Public Health (CDPH) reported that in some EVALI case patients who were interviewed reported buying vaping products from vape shops or dispensaries. Out of the stores named by patients, only six are licensed by the Bureau of Cannabis Control (BCC) to sell cannabis, and investigators were unable to prove through any sort of evidence that problematic vape cartridges had been purchased from any licensed retailers. The remaining patients who self-reported obtaining THC products from illicit street vendors, pop-up shops, social contacts, or unverified sellers.
California's Bureau of Cannabis Control (BCC) reports that a random sampling of more than 10,000 illegal vape pens seized from unlicensed retailers in Los Angeles were found to contain additives, some of them potentially dangerous, and significantly lower amounts of THC than claimed on the label.
BCC has begun a process to require cannabis retailers to display QR codes linking to their site where consumers can verify cannabis business licenses.
Cal NORML Response
This news reinforces Cal NORML's warning to consumers not to use vape pens purchased from illegal sources.
Cal NORML director Dale Gieringer had a letter published in last Sunday's Wall Street Journal titled, "No Vape Disease From Legal Marijuana in California" and also corresponded with editors at USA Today regarding their reporting on the issue.
We are working with state and federal legislators to implement our White Paper recommendations, including:
State law should be amended to give the BCC (or DPH) authority to regulate additives to cannabis extracts, including the power to ban ingredients found to be harmful on an emergency basis.
Further research is needed to determine the safety of various additives and flavorings used in vape extracts. Since the FDA lacks authority over cannabis, California should consider sponsoring research in this area.
The BCC (or DPH) should compile a list of flavorings and additives known to have been used by licensed vape manufacturers. In the meantime, the state should consider adopting a list of prohibited additives and flavorings that are known to be toxic, like that adopted by the U.K. in their regulations of nicotine e-cigarettes.
Cal NORML strongly advocates the repeal of federal laws and DEA regulations that currently prohibit research with cannabis vapes.
Also see:
CA Committees Hold Hearing on Vaping in Sacramento
Cannabis Vaping: What's Safe and What's Not