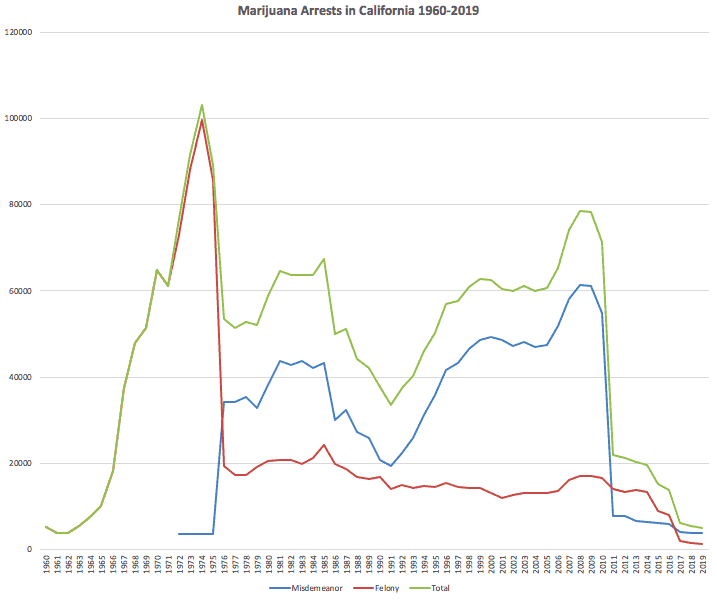 1976 – Minor possession decriminalized to a misdemeanor
1996 – Medical marijuana made legal
2011 – Minor possession made an infraction, no longer reported in arrest stats.
2016 – Adult use recreational marijuana made legal; many charges reduced to misdemeanors
CA Marijuana Arrest Rates Continue to Drop in 2020
July 2021 – Arrest data from the CA DOJ shows that felony arrests for marijuana continued to decline in California, from 1,181 in 2019 to 1,027 in 2020, with only 2973 misdemeanor arrests—down 21% from 3,769—for an overall 19% decline in total marijuana arrests from 4,950 to 4,000.
Hispanics again accounted for the majority of felony MJ arrests at 389 (37.9%) vs. Blacks (211 or 20.5%) and Whites (223 or 21.7%). Juvenile (under 18) felony arrests dropped from 91 in 2019 to 43 in 2020.
Despite the initiation of marijuana curbside sales, DUI arrests plummeted 23% to an all-time low of  96,293 in 2020 from 124,928 the year before. (The pandemic was likely a factor in the decline.)
Felony arrests for other drugs reached historical lows at 25,571, down 5.5% from 27,280 in 2019. Misdemeanor drug arrests totaled 158,652, down 16% from 189,326 in 2019.  Overall drug arrests declined 15% from 220,375 to 187,396 in 2020—the lowest level since 1983, when CA's population was considerably smaller.
Overall total CA felony arrests declined 6.8% to 273,542, down from 293,509 – the lowest since my records begin in 1980. Misdemeanors declined even more sharply to 577,586, down 24% from 758,056. Again, the pandemic could be a contributing factor.
2019 Felony Marijuana Arrests in California Lowest Since 1954; Racial Arrest Disparities Increase
July 14, 2020 – Arrest data released by the California Dept. of Justice show there were 1,181 felony marijuana arrests in California in 2019, down 27% from 2018 (1,617 arrests) and the lowest number since 1954.
Hispanics accounted for 493 or 41.7% of felony arrests; Blacks for 263 (22.3%) and Whites for 252 (21.3%).  Similar racial disparities were found in misdemeanor arrests. Read more.
Marijuana Arrests Decline Again in CA in 2018; Hispanics and Blacks continue to be disproportionately arrested
July 5, 2019 – The number of marijuana arrests in California continued to decline toward new lows in 2018 according to data released by the Criminal Justice Statistics Center. The total number of felony arrests was 1,617, down 22% from 2017 and the lowest since the 1950s. Misdemeanor arrests totaled 3,835, down 4% since 2017. Total arrests numbered 5,452, the lowest since 1962.
Whites accounted for 25% of marijuana arrests, Hispanics 44% and blacks 16%. Read more. 
Marijuana Arrests in CA Drop 56% Following Passage of Prop. 64; Felony Arrests Drop 74%
July 9, 2018 – According to the Attorney General's annual crime report for 2017, arrests for marijuana offenses dropped precipitously in California following the passage of Proposition 64, which legalized the recreational use for adults in November 2016. A total of 6,065 marijuana arrests took place in 2017, versus 13,810 arrests in 2016, a drop of 56%.
Felony arrests for marijuana fell a whopping 74% to 2,086 in 2017 from 7,949 in 2016. Under Prop 64, the majority of felony offenses were reduced to misdemeanors. Felony arrests have plummeted from 13,300 since 2014.
Whites accounted for 24% of felony arrests, while Hispanics (40%) and African-Americans (21%) were again disproportionately arrested (Table 31). The greatest percentage of felony arrests were for those aged 20-29 (39%, or 815 arrests) (Table 32); this age bracket was the most arrested for all ethnic groups (Table 33).
A total of 3,979 misdemeanor marijuana arrests took place in California in 2017 (Table 34). This is a drop from 5,861 misdemeanor arrests in 2016. It remains unknown how many are issued citations for possessing under an ounce of cannabis, since that was decriminalized in 2011.
Once again for misdemeanors, Hispanics represented the highest percentage of arrestees (46%), followed by Whites (29%) and Blacks (13%) (Table 34).
Those under 18 were much more likely to see misdemeanor marijuana arrests, making up nearly 45% of arrestees, or 1,785 persons (Table 35). For Hispanics, 984 persons under 18 were arrested for misdemeanors, 728 of them male and 256 female (Table 36).
Arrests for driving under the influence of alcohol or drugs fell again in 2017, to 119,354 from 125,923 in 2016. Those numbers have been dipping since 2012, when the number was 170,316. (Table 25).
2016 Arrest Data Released
The number of felony arrests for marijuana dropped again in 2016, to 7,949, according to the Attorney General's Crime in California Report, with 7,254 adults arrested and 695 minors (under 18) arrested. Those numbers represent a 10% drop from 2015 numbers and a 20% drop for minors. Males accounted for 6,983 of the arrests and females 966. Hispanics were again the most-arrested demographic, accounting for 3,066 of the felony arrests, with 2,076 whites arrested and 1,592 blacks. The most arrested group was between 20-29 years old, with 3,084 arrests.
The number of misdemeanor arrests for marijuana was 5,861; a large number of these arrestees—3,215—were under 18. Misdemeanor arrests for all drugs rose to 175,141, and misdemeanor driving under the influence arrests fell again to 125,963, from 142,604 in 2015.
California Felony Drug Arrests Plummet Following Prop. 47
July 2, 2016 – Felony arrests for Narcotics and Dangerous Drugs reduced by 68.2% and 73.6% respectively in California between 2014 and 2015, while Felony Marijuana arrests reduced 33.3%—from 13,300 to 8,866—according to data released by the Attorney General's office (see Table 2, p. 25 of the "Crime in California" report). Read more.

Cal NORML Director Dale Gieringer with a chart at the Oakland Museum Altered States Exhibit for which NORML contributed data.
2014 CA Marijuana Arrests Reach Lowest Level Since 1966
California recorded 19,711 marijuana arrests in 2014, down slightly from 20,346 in 2013. This included 13,300 felonies and 6,411 misdemeanors. (An unknown additional number of Californians were cited for non-criminal possession infractions.) Arrests have been steadily declining since 2008 and are now at their lowest level since 1966. Read more.
Marijuana Arrests Steady, DUIs Decline in California in 2013
California reported 13,779 felony and 6,587 misdemeanor arrests for marijuana in 2013, about the same as the year before. Meanwhile, the number of DUI arrests dropped 7.5% to 162,199, the lowest level in decades.
Over 20,000 Arrested in California on Marijuana Charges in 2013
According to the Attorney General, there were 13,779 felony marijuana arrests in California in 2013, slightly more than in 2012. Marijuana misdemeanor arrests came in at 6,567 in 2013 vs. 7,768 in 2013. The vast majority of misdemeanor arrests were for those under 18 (4,572). Read more.
Marijuana Arrest Figures from 2012 Released by Attorney General's Office
According to the report, there were 13,434 felony marijuana arrests in California in 2012, continuing a downward trend from 14,082 in 2011. Hispanics were the most-arrested ethnic group, with 4953 felony arrests, followed by whites (4617), blacks (2745) and other races (1119).
Misdemeanor marijuana arrests took a nosedive in 2011 because under an ounce became an infraction that year; infractions are not tallied in the AG's report. Marijuana misdemeanor arrests came in at 7768 in 2012, almost identical to the number in 2011 (7764).
Also see: Reported Drop in CA Marijuana Arrests: Less Than Meets the Eye
Misdemeanor Marijuana Arrests in California Drop 85% in 2011
Number of Infraction Citations Not Known
As of January 1, 2011, possession of an ounce or less of marijuana was demoted from a misdemeanor to an infraction. The state doesn't keep track of infractions, so as expected, there was a precipitous drop in the number of possession arrests in the 2011.
In 2011, according to the California Attorney General's office, misdemeanor arrests for marijuana fell from 54,849 in 2010 to just 7,764 in 2011. Subtracting the nearly 50,000 arrests means the total number of drug arrests in California fell 40% from 112,085 in 2010 to 69,315 in 2011. Felony arrests for marijuana fell to 14,082 in 2011 from 16,585 in 2010.
Juvenile arrest data from 2011 shows 1,952 felony arrests and 5,831 misdemeanors for marijuana among those under 18. This is quite a drop from the 14,991 misdemeanor arrests for marijuana among juveniles in 2010, but again, we don't know how many infractions there were. Felony arrests for juveniles are nearly equal in the two years, with 2,206 in 2010. Racial disparities are the same (predominantly Hispanic with Whites running second). Most go to probation.
Marijuana Arrests Decline in California in 2010
September 14, 2011 – California reported a moderate decline in marijuana arrests in 2010, according to the latest figures from the Criminal Justice Statistics Center.
The number of marijuana prisoners has held more or less steady in California since the height of the drug war in the late 1980s, despite the passage of Prop. 215. There are now over 14 times as many marijuana prisoners in California as in 1980. This does not count federal prisoners, such as Dr. Mollie Fry and Dale Schafer, Bryan Epis, Eddy Lepp, DC Costa, Virgil Grant, Kenneth Affotler, Luke Scarmazzo and Ricardo Montes, all of whom are serving mandatory minimums of at least five years for medical marijuana.
Altogether, the state held 24,959 prisoners for inherently non-violent drug offenses at latest count; 8,587 of them for simple possession of controlled substances other than marijuana.
California's prison overcrowding can thus be largely attributed to the drug laws, a modern innovation that did not exist prior to the 20th century.
There are signs that the high tide of drug prohibition may be waning. Drug offenders currently account for 15% of all inmates in state prison, a substantial reduction from the all-time high of 28% in 1999, the year before California approved Prop. 36, which mandated treatment instead of prison for minor possession offenders. Since then, the number of drug prisoners has continued to decline, dropping by fully 20% in the two years since 2008.
Also see:
California Holds 1,401 Marijuana Prisoners As Supreme Court Orders Prison Cuts
May 24, 2011 – As the US Supreme Court ordered California to release 30,000 prisoners, the state held 1,401 prisoners for inherently non-violent marijuana felonies, according to the most recent statistics from the Department of Corrections (Dec. 31, 2010).