For more information, including sources of high-CBD products in California, see www.ProjectCBD.org. California NORML is a supporter of Project CBD.
Also see:  CBD Awareness Project, a newly launched organization dedicated to bringing accurate information about hemp-derived products to the general public.
Spurred by growing reports of the medical efficacy of cannabidiol (CBD), the second leading active ingredient in marijuana, patients are increasingly seeking out high-CBD varieties for treatment of conditions ranging from severe epilepsy and multiple sclerosis to anxiety and cancer pain.CBD has long been overshadowed by delta-9-THC (tetrahydrocannabinol), the primary active ingredient in marijuana, because unlike THC, it does not produce a psychoactive "high." CBD has nonetheless long been known to have useful anti-spasmodic, anti-epileptic, anti-anxiety, and anti-psychotic properties.
Although CBD lacks noticeable effects when taken alone, it has a calming, sedative effect when combined with THC, cutting down on the anxiety, paranoia, and memory impairment that many users find unpleasant or debilitating with regular marijuana. CBD-rich strains accordingly have particular appeal to older users and medical patients who are uncomfortable with the THC high.
Public interest in CBD was aroused by a 2011 CNN report on medical marijuana by Dr. Sanjay Gupta. Previously a skeptic on medical marijuana, Dr. Gupta admitted to having been "brainwashed" by government propaganda. Gupta featured the story of a 5-year-old girl, Charlotte Figi, who suffered continual epileptic seizures from a rare disease known as Dravet's syndrome. Conventional treatment having failed, Charlotte's condition dramatically improved after she was treated orally with an extract of CBD-rich cannabis.
In the wake of Gupta's show, providers of high-CBD strains have been besieged by requests from parents of children with Dravet's, including from non-medical marijuana states. Utah recently held hearings at the state legislature about drafting a bill on the topic.
Meanwhile, Modesto City Council denied a request by Jason David and other parents to allow them to grow and test their children's medicine, and David's son Jayden is no longer allowed to take his medicine at his school.
A survey by Stanford researchers of 19 severely epileptic children found that 84% experienced substantial seizure reductions from CBD-enriched cannabis.
In the U.K., GW Pharmaceuticals has developed a natural cannabis extract known as Sativex, consisting of equal parts CBD and THC. In tests with multiple sclerosis patients, GW researchers found that subjects responded better to equal parts CBD and THC than to either pure THC or CBD. Sativex has been approved in the U.K for treatment of MS, and has shown promise in human subjects for treatment of cancer pain and neuropathic pain.
GW is also developing a pure CBD extract known as Epidiolex, which is undergoing FDA "orphan drug" studies for treatment of pediatric epilepsy.
Additional, preclinical studies suggest that CBD may have therapeutic benefits in the treatment of various conditions, including chronic pain, anxiety, nausea, rheumatoid arthritis, schizophrenia, diabetes, PTSD, alcoholism, strokes and cardiovascular disease, cancer, and other ailments.
CBD has been shown to suppress colon cancer tumors in mice and to kill breast cancer cells in lab studies by Dr. Sean McAllister at the California Pacific Medical Center. However, cancer specialists caution that the efficacy of CBD for cancer remains to be demonstrated in actual human studies.
CBD also has anti-inflammatory, neuro-protective, and anti-oxidant properties. Anti-oxidants are thought to fight degenerative diseases and aging. CBD has also been shown to stimulate bone fracture healing in laboratory animals.
Until recently, CBD-rich marijuana was generally unavailable in the U.S. because breeders had concentrated on developing plants with high THC, breeding out CBD in the process. Fewer than 5% of samples tested show appreciable amounts of CBD. Only with the advent of laboratory testing, first pioneered by Harborside Health Center and Steep Hill Labs in Oakland, did it become possible to detect and breed high-CBD varieties of cannabis, since CBD is otherwise undetectable by appearance or odor.
In response to growing demand, numerous strains of CBD-rich varieties have been developed by breeders in California and elsewhere, although they are still difficult to find in many dispensaries. Consumers are cautioned not to buy CBD-rich varieties unless they have been laboratory tested.
Contrary to popular misconception, so-called indica varieties are no more likely to have CBD than sativas. Lab studies by the WercShop, co-sponsored by California NORML, found no relation between chemical profiles, as measured by cannabinoid and terpene content, and varietal types, whether indica or sativa. Breeders have developed special high-CBD hybrids from various genetic stock. Some have virtually pure CBD, while others typically have THC; CBD ratios ranging from 2:1 to 1:2.
The optimal dosage levels of CBD are uncertain due to a lack of human studies. Chronic high doses of up to 1500 mg per day are well tolerated and produce no noticeable physiological effects. However, there is evidence to suggest that the medical benefits of CBD disappear when dosages become excessive. For inhaled medical use, most users prefer varieties with THC:CBD ratios between 2:1 and 1:2. Extremely low-THC varieties are useful for making CBD extracts and tinctures. Unlike THC, CBD does not show up positive on standard drug tests for marijuana. However, most CBD formulations contain trace amounts of THC that can be detected.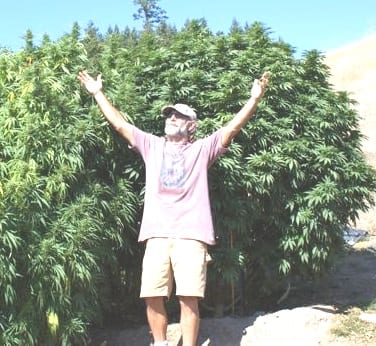 Sadly, Lawrence Ringo of SoHum Seeds, a pioneer in developing CBD cannabis strains, died on April 4, 2014. His family will carry on his work.