UPDATE 6/30/2020 – We have had several reliable, confirmed reports that police in San Francisco and Oakland are warning cannabis businesses that a second wave of robberies could happen over the July 4 weekend, especially on Saturday when police will be busy with fireworks celebrations, etc. Businesses are advised to take precautionary safety measures. It is unknown how widespread these actions may be; if anyone has more information please let us know.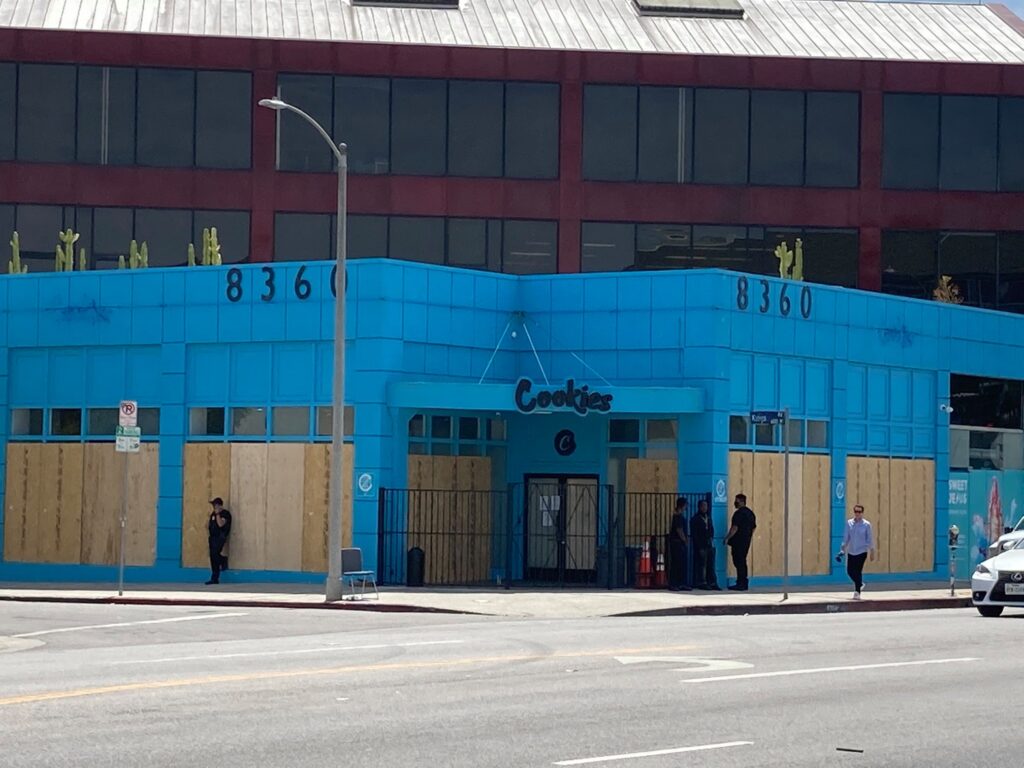 A boarded up and guarded cannabis shop: Cookies on Melrose.  
June 1, 2020 – Cal NORML warns cannabis consumers to be careful about visiting cannabis retailers during the public response to the deaths of George Floyd and other people of color who have died at the hands of police.
Many cannabis stores throughout the state have shut down operations or limited hours. In addition, several have been targeted for robberies, some of them repeat robberies.
The California Cannabis Industry Association (CCIA) today asked regulators to "immediately remove all cannabis business location information from State websites for the safety and security of businesses and employees" and suggested that cannabis businesses consider limiting operating hours, especially toward nighttime; limiting delivery operations; increasing security coverage; and minimizing cash and inventory on-hand.
CCIA issued this statement: "While we are unified as an industry, a state, and a nation in overcoming social injustices through peaceful civil unrest, the California Cannabis Industry Association has learned that dozens of cannabis businesses across the state have been subjected to violence and burglaries over the past few days. Some of the attacks appear to be well-coordinated break-ins taking advantage of the civil protests and unrest that are occurring in many cities across the country."
WHO WAS HIT
As reported by CelebStoner, businesses that have been targeted include:
In San Francicso: BASA Collective, The Green Cross, SPARC, Mission Cannabis Club, California St. Cannabis Company, Dr. Greenthumb's, The Apothecarium, Urbana (two locations), Moe Greens, Grass Roots, Connected Cannabis, Dutchman's Flat, Blunts+Moore and Medithrive.
In the East Bay: Magnolia Wellness, Harborside Health Center, Phytologie, Blum, ECO Cannabis, Cookies, Smoakland, Oakland Organics and The Farmacy in Berkeley.
In Los Angeles: Cookies on Melrose, MedMen (three locations), LA Kush, Sherbinskis, Sweet Flower and The Pottery. MedMen posted at Twitter that all of their stores are "currently closed."
Also hit were NUG and The Kana Company in Sacramento, VHHC in Vallejo, and One Plant in El Sobrante, as well as stores in Oregon and Chicago.
HOW TO STAY SAFE
Americans for Safe Access of  Southern California urged medical cannabis patients to take the following precautions:
• Check the news before you head to the dispensary. Curfew hours may have changed, or there could be police activity in the area you plan to visit.
• Call your provider or check their website before showing up. Some dispensaries must close early to accommodate curfews or are only open during daylight hours.
• Be patient when you arrive at the dispensary. Staff has already been reduced because of the COVID-19 Pandemic. Some staff may not be able to come in to work because of civil unrest near their homes.
• Inventory replenishment may be curtailed if distributors have to stop making deliveries until they can maneuver city streets safely. Please be prepared to work with staff if your usual strains and products are not available.
"If you're in a position to do so, leave a little something extra in the tip jar, or at least say thank you. Budtenders have been there for you during the pandemic. Now they must go to work each day wondering if the dispensary neighborhood will erupt in violence during their shift."
Cookies owner Berner said at Instagram:
"It's extremely unfortunate what happened to our store tonight on Melrose. But as a human living in the world today I can't expect anything less until justice is served. We can rebuild our store but you can't bring someone back to life. With that being said, we stand with what's going on in the world, A statement needed to be made. I pray everyone stays safe and protects their family in a time like this. How can I worry about a store when there's so much happening in the world right now? So much hate, so much anger, so much pain and a lack of justice. Please take care of your families and stay safe.
Thanks to Jimi Devine of LA Weekly and Ophelia Chong of StockPotImages for helping to compile this list of robberies.