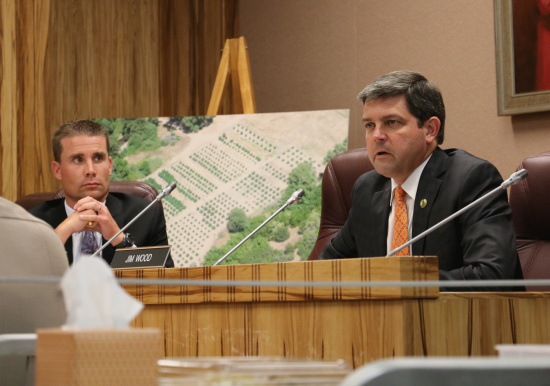 "Fish, Flow and Marijuana Grows: Drought and Illegal Marijuana Impacts to Fisheries" was the title of a hearing held July 1 in the California Assembly Joint Committee on Fisheries and Aquaculture, co-chaired by North Coast Senator Mike McGuire and his assembly counterpart Jim Wood, both freshman who have filed MJ regulation bills this year. Attending the hearing was veteran senator Jim Nielsen, who recalled the days when the CAMP program was first funded, and asked about heritage water rights for farmers in his Sacramento Valley district.
All the water and fishery experts talked about regions other than the Emerald Triangle, but all of the law enforcers talked about nothing but that region. The Shasta reservoir is a particular problem, with officials raising the target water temperature to 57 degrees rather than 56, because that more desirable number just isn't possible. The reservoir feeds the Sacramento valley, presumably for rice farms there.
Charlton Bonham, Director of Fish and Wildlife, said four key tributaries in the Russian River have lost 90% of their Coho salmon, and that San Joaquin's is worse than the Sacramento and Shasta river systems. He said progress is good on reaching out to marijuana growers who want to be in compliance. They've done about 100 inspections and have been getting a lot of complaints, he said many as many as 24,000 contacts. He said he could put all of his 310 rangers onto marijuana.
Thomas Howard, ED of the State Water Resources Control Board was asked about his new authority to hold hearings, mentioning due process and assuring the committee that the opportunity to correct violations was being offered. His new "joint" partnership with Fish and Game encompasses regulation, enforcement, and education/outreach along with local governments. He mentioned that the North Coast Regional Water Quality Control Board is expected to finalize its permit program requiring grower registration on draft waste discharge requirements (WDR) at its Aug. 13 meeting in Santa Rosa. Central Valley is regs are in the works.
As a result of the elevated water temperature in the Shasta reservoir, Howard said his agency has had to "curtail" diversions on Mill and Antelope creeks where they enter the Sacramento River, to some who had water rights since the 1870s. He mentioned 9,218 diversions and said the curtailments don't work well in real time, they're "acting like pseudo-adjudication." He mentioned Mark West creek in Sonoma as a problem stream.
Howard said his agency has done 87 inspections and issued one $300K fine, 5 abatement orders, and other minor violations. This is with the knowledge that there are 10s of thousands of operations that ought to be inspected. In answer to a question from Sen. Nielsen, he said was satisfied with the security that law enforcement offered his agency in the field. McGuire asked about assuring confidentially of data provided to the agency. Howard said he'd check but that generally info supplied to him was public.
"The vast majority of these diversions are legal under riparian rights," Howard said, "but funnily, diverting into ponds is illegal." Later pictures of poorly designed ponds that allegedly crumbled into streams were shown.
John McManus of the Golden Gate Salmon Association said that although there are salmon on the Eel and Klamath rivers, "our bread and butter is from the Sacramento Valley," which provides for much of the ocean salmon fishing in CA and OR. He too said the hot water behind Shasta Dam is a problem. Some 98% of the 2014 salmon generation was lost after eggs from the winter spawn were killed by too-hot water: of the estimated 195 million eggs laid only 3.5 million hatched.
McManus also said that diverting the Feather River through Thermolito in order to heat water for rice farms means the water is too hot for fish. Getting rid of that, and building a fish ladder at the Oroville dam could make the Feather a spawning ground for salmon.
Tim Sloane of the Pacific Coast Federation of Fishermens' Associations said they are looking at the complete closure of the ocean salmon fishery as in 2008-9, and since federal disaster relief is now harder to come by, they would be coming to the state for disaster money. A healthily salmon industry is worth $6 billion and provides 94,000 jobs.
The Marijuana portion of the hearing was then convened, starting with Lt. DeWayne Little of Fish & Wildlife. His first slide was of a garden with a sign that said "215." He said there are by conservative estimate 4000 marijuana grows in Mendocino. As did Sheriff Mins in Fresno last week, he claimed pressure on cartels in the forests was driving them to the valley floors where they were growing under guise of 215.
Little showed aerial shots of Post Mountain in the South Forth of the Trinity, comparing 2005-2012 with lots of trees gone. He put up some slides with data on the North Fork of Salmon Creek, Sproul Creek, and Grizzly Creek above Stevens (where he said known grows did not exist.) These were later challenged by environmental activist Richard Gienger, who also pointed out that the timber industry went unregulated for around 100 years.
Little estimated 50,000 grows in California and said his agency had inspected 99 in Shasta, Tehama, Butte and Humboldt. Around 90% were brought into compliance he said, LSA applications are being submitted daily, and water storage is up. His aim he said is to permit as many cultivation sites as possible. He put up his phone number on the last slide: 530-604-9789.
Scott Graecen of Friend of the Eel then spoke, saying the unregulated MJ industry and its rapid expansion are driving key fisheries extinct. Noting that logging and road building had begun the damage, marijuana is putting streams "over the edge." It's also affecting people: the city of Rio Dell, he said, was getting curtailment notices while thousands of illegal diversions were happening in the hills.
Graecen said he would support home gardens of up to 2000 sq. ft, but that large operators must be on land suited for them, not deep in the woods in the Emerald Triangle. Nothing on the table now will work, he declared, and warned that it will be difficult to pull back on "improvidently granted rights."
Mendocino Sheriff Tom Allman said there are an estimated 87K grows on private land and that if we pass full legalization we're see continued abuse of natural resources. He showed a picture of a water bladder 100 x 100 ft, saying it held 587K gallons.
Hezekiah Allen of Emerald Growers got the last word. "We'd much rather pay taxes than fines," he said, adding that EGA supports all the medical marijuana regulation bills currently in the legislature, while insisting on tiered licensing.
He estimated 5525-9207 acre-feet of water used on marijuana statewide yearly (close to Cal NORML's estimate of 12,000 for indoor-grown marijuana, a third of that for outdoor-grown). The compares, he says, to the 35 million acre feet used for other agriculture in CA. He said if California grows 4 million large plants (at 5 lbs. per plant) it will use 3 billion gallons of water; if everyone grows small plants (1/4 lb.) the state will use 1.8 billion gallons (for a 90-day growing cycle, vs. 150 days.)
Allen said 6 gallons a day was "worst case" and the better figure to use was 1 gal/lb/growing day. Julia Carrera, Representative for the Small Farmers Association, got up at the public comment portion and said SFA growers were aiming for 1 gal/plant/day. She also noted that farmers who use shorter growing seasons often have up to four crops per year, so that they actually use more water.
"This needs to be the year that legislation is passed to bring about rules and regulations," said McGuire. "It's shame on us if we don't find the will to pass it." He said ideally all bills would be melded into one, and that we need "significant resources" to repair the damage of the last 20 years of non-regualtion of medical marijuana. "It's legal and we're not turning the clock back," he said.
Wood said considering we're faced with full legalization in 2016, now if the time. On taxation, he said we can't put a huge regulatory burden on people or it will just drive things further underground.
"Those operating outside the law don't care about the penalties, civil or criminal, to their operations," said Ellen Komp of California NORML. "Enacting more fines instead of allowing licensing for marijuana farming will likely penalize those attempting to stay in compliance with environmental regulations, while driving the market towards the worst offenders who don't follow any rules."
Matt Smith-Caggiano, a fish and wildlife biologist who heads the Humboldt chapter of NORML, recommends that farmers store a sufficient amount of water during the winter months, with water diversions permitted only when the river/creek flow is above a certain level, similar to fishing regulations. To this end, live stream flow data are being published at HumboldtNORML.org. "Using a fair market income approach, farmers should be able to plan and manage resources that will sustain the craft farmer and the environment," Smith-Caggiano says.
Nielsen took over his Assembly seat from now-Congressman Doug LaMalfa, who is a USDA-subsidized rice farmer. Rice farmers are planning to seed only 6% fewer acres in 2015 vs. 2014. Also see: Rice Gets a Bath Amid California's Drought
Both LaMalfa and Nielsen are staunch opponents of marijuana legalization. Nielsen's PAC, the Golden State Leadership Council, contributed $10,000 against Prop. 19 a 2010 measure that would have legalized marijuana for recreational use in California. LaMalfa's signs for his recent re-election read: Water Jobs Liberty (in that order). "This isn't about weed, it's about water," says Andrew Merkel, who lead the No on Measure A/Yes on Measure B campaign in Butte County.